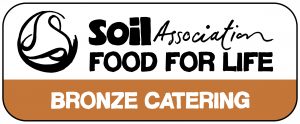 Here at thestudio we like to think of ourselves as being game changers. We place you, our valuable guest, at the heart of everything we do. This being said, in today's day and age an undeniable spotlight has been firmly placed on what we put on our plates.
Sustainable, less travelled, super food , gluten free, diary free and vegan are all words we hear more and more and are becoming a more prominent factor when our customers are choosing their venues for meetings, training and events.  So with this in mind and the fact that we love food! … what we're about to announce should come as no surprise!
We have only just gone and done it! We have achieved a Bronze Food For Life Catering Mark!
Why's this something to shout about?
Well… this means all your food is freshly prepared to the highest of standards by using seasonal vegetables, 'red tractor' meat and eggs from free range hens. Did we mention there's no place for additives or trans fats in our food? We meet the government guidelines for food and nutrition!
Now that's something to shout about!
Our daily menu created by our chefs and complying to the awards standards always offer our delegates; a hot meat or fish dish,  a hot vegetarian dish, which is always gluten and dairy free, hot side dishes, salads and super food of the day, with a little sweet treat of something to finish
If you'd like to see what storms our in-house chefs are capable of cooking up, check out our menu page! *warning salivation imminent*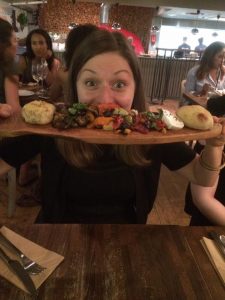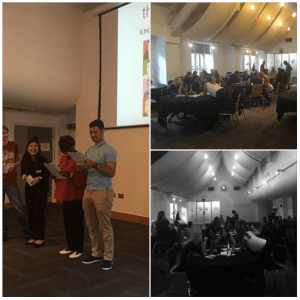 We all can relate to the importance of a get together, be it family or friends. But for a lot of organisations, including ourselves, we see the value in getting our
studio
team together. So last Wednesday, we did just that! With a handful of new
studio
family members and a
new venue
on the ever brightening horizon, our quarterly round up couldn't have been timed better! Check out what we got up to…
We learn…
To kick off the session the team were presented with all things studio from none other than our
delightful directors
. Could you have guessed we're forecasted to have had a
whopping 137,000 customers
by the end of this year! Now that's a big number!
We explore…
Let's face it, self-introductions are always a bit awkward, especially if you're new. So it was time to call in the big guns… an ice breaker to the rescue! Partnered randomly with someone we may have not worked with directly, we were left to our own devices to find out
3 interesting facts
about each other. From missing bones to filming the
Duke of Edinburgh
, these 'on behalf of' introductions were both insightful and hilarious!
We achieve…
Keeping the team amused and engaged after a hard days' work was high on the cards. With a studio themed pop quiz distributed and the fire of friendly competition raging in our bellies, we had an all-out battle to see who knew the most about our past, present and future! Team Mixed Bag took the title of studio encyclopaedia, closely followed by Just here for the Pizza.
We connect…
As the night drew to a close, there was only one thing that could solidify our
bond
further: pizza. So it was off to
Zizzi's in the Mailbox
(who have a deliciously diverse menu!).
Hope you enjoyed this brief run through, if youre struggling with ideas to get your
team
together and wondering who you gonna call?
thestudio
! 
Suffering from summer time sadness and wishing you too were on holidays? The weather might not be great but here's a few things we think could brighten up your day, especially if you're paying us a visit!
Don't forget the sun tan lotion…
Being the number one topic of all our gripes and groans, the British weather is renowned for its ups and downs. This being said, when the sun decides to have his hat on, it's important for us to make the most it! There's nothing better than soaking in the sun and what a better place to do it on than our roof garden in Birmingham or terraces in Manchester and Leeds!
A toast to summer…
Is there any better way to celebrate the summer than with a tempting glass of prosecco or a soothingly cool luxury ice cream? Being firm believers of treating yourself, especially when it comes to food, our summer offer is one not to miss and available across all our venues. Check out our latest offers if you'd love an all-inclusive rate!
Where art thou Pikachu…
Pokemon Go has literally taken society by storm, all generations have come together to pursue childhood dreams of becoming a Pokemaster! Or they're just curious… But for those who have a new found addiction to pokeballs, did you know thestudiobirmingham is sat right next to a plaque dedicated to William Shakespeare which doubles up as a Pokestop! Now you can top up both your coffee and stash of revives on your break. Happy days. (more…)