On the twelfth day of Christmas
my true love sent to me:
12 Drummers Drumming
Eleven Pipers Piping
Ten Lords a Leaping
Nine Ladies Dancing
Eight Maids a Milking
Seven Swans a Swimming
Six Geese a Laying
Five Golden Rings
Four Calling Birds
Three French Hens
Two Turtle Doves
and a Partridge in a Pear Tree
Your wish list may not be as long as this but did you know it's less than 12 days to Christmas! With not long to go, we thought it was the perfect opportunity to wrap up 2016 with our quarterly team meeting.
We value team bonding and the effort everyone makes to attend thestudio forum is phenomenal, Gillian even flew in from Glasgow! Our forums present a space where our tight knit team can freely discuss ways to develop in 2017, pledging to continually support each other across departments all whilst enjoying a cheeky glass of mulled wine and the odd mince pie.
Home Alone…
This year we opted to stay within our venue. Being firm believers that a change of scenery can truly inspire you, we transformed the Atrium into a Lapland wonderland filled with the usual suspects (Christmas tree, fairy lights) but with a few extra surprises!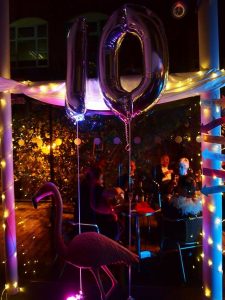 It's undeniable that change is brought about with each passing year. 2016 is no different. As we're almost at the dawn of 2017, we thought it was time to cast our sights back on the year we leave behind.
2016 has called for some major adjustments, the loss of David Bowie, our decision to leave the EU and Donald Trump being elected as US President are perhaps a few unexpected surprises. In the face of change, we must embrace it, evolve and aspire to stay consistent in everything we do. At thestudio we pledge that no matter what life throws at us, or where we set our foundations, our customer first attitude will always take centre stage in the service we provide.
Of course it's not all doom and gloom…
2 most notable achievements have gone down in studio history this year!
With the appearance of our latest addition to our ever growing family, thestudioglasgow has been our 4th venue venture. We've grown from our modest beginnings in 2006, serving up to 30,600 guests in 2007 in one venue to a whopping 86,500 across 3 venues in 2015! We're really excited to see the number of studio goers at the end of this year, especially with our 4th venue on the band wagon. Dreaming BIG isn't new to thestudio, another year, perhaps another venue? Who knows what the future has in store!
Fantasy or reality?
Were you welcomed by a 6ft giraffe mounted by gymnast throwing shapes? No, it wasn't a dream… There's only one place you could've been… thestudio's 10th Birthday party. (more…)