Guest blog from Bea Peck …
Day 1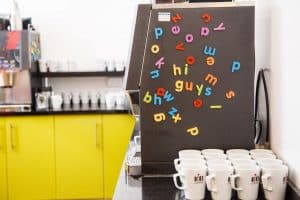 It's 8.50 on Monday morning, the first day of my work experience @thestudio, ¼ of my body weight is currently nerves, another ¼ coffee and the other ½ undeniable excitement. I suppose I should introduce myself – Hi, my name is Bea. I'm 17 and currently studying my first year of A levels but more importantly, I just spent a week @thestudio to learn how such a successful events company is run day to day.
Rumour has it, business people are scary. They're crazy caffeine fuelled robots who type numbers into a computer nine hours a day – but not @thestudio. I was met with nothing other than a smile.
As I toured the building, I couldn't help but grin at all thestudios' little quirks; the bright and engaging décor, the goldfish on the second floor, even the toilet signs could lighten your Monday morning blues.
By 11am I had conquered my fear of the phone lines, it was until this week I had never transferred a call… embarrassing but true! Jyoti navigated me through thestudio's social media pages, blogs and website, teaching me how keeping clients informed with thestudio's recent activities or even gaining a twitter follower are all important aspects of establishing solid relationships with clients in this increasingly digital age.
Day 2
Today I sat with Pedro on the second floor reception, greeting puzzled looking guests and showing them to their rooms. Once again I manned the phone lines, discovering the talent of job juggling that the not-so-scary business people @thestudio perform so admirably. Here, I gained experience both behind the desk but also good customer service skills that I can transfer to any workplace in the future. (more…)
What's got thestudio in a tizz?
One word: mornings. With a ritualistic dose of caffeine, the masses are alight with ambition to grab the day by its horns. Everyone has their own peculiar way of dealing with mornings, but aside from a strong coffee we noticed something… Do you know what else we all have in common?
Whether you consider yourself a shower performer or crank up the volume as soon as you get in the car, there's no denying we all love a bit of music in the morning. From classical to heavy metal, your eclectic ears demand their own wake up call. One far more pleasant than your default alarm!
It's in the music…
Did someone order a pick me up? Music has the ability to inspire, excite and better still motivate us. It kicks our brains into gear, evokes emotions and can even transport us to distant memories. What we listen to says a lot about who we are as individuals but collectively, within industry, it says a lot about brand culture. We love to provide an environment perfect for your ideas to take root and grow, hopefully our background melody helps set the right tone for the day. Unlike Depeche Mode, not everyone enjoys the silence!
Ever heard of the Dance Epidemic in Strasbourg?
Heard the saying shop till you drop? How about dance to the death?! In 1518 around 400 individuals partied their socks off for a month long of non-stop dancing. They partied so hard in fact a few people lost their lives!
Check out thestudio teams' morning anthems…
Jyoti:
Music is one of the biggest loves of my life, I doubt I've ever gone a day without sticking my headphones in! I listen to everything and am even a fiend for listening to music in the shower, which isn't really good for my wireless headphones :')
Luana:
Our radio is stuck on Classic FM and our alarm is set to go off with radio …although it's not always the best wake up music, especially when you're woken up with a drum or a cymbal bang but hey ho…rise and shine!
Evie:
I normally listen to the Radio on the way to and from work. I like listening to the presenters more than the actual music!
Here @thestudio we'd love to hear what you think about our background music, feel free to make some suggestions as you're an important part of our brand!
Whether "manic" or "blue", there doesn't seem much positivity surrounding the M word!
I don't like Mondays … why?
It's no secret that Monday is the most resented day of the week. You only need to open up twitter to a myriad of motivational tweets encouraging you to make the day count. But why is it that most of us struggle to spur ourselves on, especially on the first day of the week?
Science fact or fiction?
Don't you just love the weekend? The anticipation of the weekend lie-in definitely adds to that overwhelming Friday feeling. But that lie-in you love may be fuelling your distaste of Mondays… How? Studies have shown that our body clocks are very fragile things, so fragile that even an hours' extra sleep can throw off your body clock… Making it even harder to pry yourself from those bed sheets!
I want to break free…
Freedom. One of the most inspiring words in the English language, and just what the weekend offers. Goodness knows we love to break free from routine, so getting back to the daily grind hits us harder at the beginning of the week. Making Mondays the prime target of unproductivity!
Monday motivation…
Everyone has their own way of getting over that first day hump, check out what some of thestudio team members do to keep themselves inspired and driven!
Adam – I play football 4 times a week and Monday nights are the best 1 of those 4 so I look forward to a Monday more than most. I look forward to it all day so completing my day's work is a formality.
Coffee also helps too 🙂
Evie – Look at my bank balance… jokes. I motivate myself by trying to set the tone for the week.

Katie – No work no PAY.
Rachel – Food …
Gillian – Monday is a new start and a chance to forget the issues/problems of last week and look forwards.
Anna – I don't need the motivation 😉 I'm always super-chirpy!!
Haha that's a lie but I generally don't think of Monday as any different than the rest of the week – it's easier if I get everything ready the night before and depending on the shift I'm working a decent session in the gym always wakes me up a bit
Dawn – Coffeeeeeeeeeee! Although I tend to be pretty well raring to go once I get to work, usually having been woken up at 6am by a lively 1 year old and a 5 year old bouncing off the walls.
If you're looking for Monday motivation then there's no better way to start your week than spending a day at thestudio! Our most competitive day delegate rates are often available on Mondays (and Fridays) and whatever the day has in store we'll guarantee you a warm welcome and plenty of coffee to help fuel the week ahead!