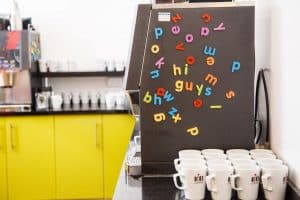 Not to be confused with The Ting Tings, The Ting Thing is a prolific Birmingham based blogger! Her work encompasses topics like beauty, fashion, food and travel. So if you're looking for some inspiration, her lifestyle blog is definitely worth a gander.
thestudio & The Ting Thing…
If you're new to us, we're a meetings and events venue who harness their core value of customer first in everything we do. We have 4 venues throughout the UK, with our HQ based in the heart of Birmingham's bustling city centre.
Today, we're happily welcoming The Ting Thing though our doors and many other Birmingham-based bloggers! In this exciting event, they'll be looking to collaborate works, swap ideas and create something nothing short of brilliant.
If this sounds right up your street and you'd like to find out more about Birmingham Blogger UK please click here.
From thestudio…
Wishing everyone a fabulous blog together day!
In our fast paced world it's good to slow down and place importance on that fabled 'me' time. Undoubtedly it's why apps such as Headspace are such a hit! It can be difficult to set aside time to gather ourselves, so let's draw inspiration from nature… the mascot for being seamlessly chilled, today we celebrate International Sloth Day!
Did you know…
One of our team members has travelled to the land of these strange but endearing creatures? Check out what she had to say about her experience:
"Eye opening. That would be the best way I could describe my trip. I've never travelled solo let alone with a group of strangers!  So whilst putting my people skills to the ultimate test, I thought it would be  a bright idea to challenge my fears and take part in Indiana Jones type activities like waterfall rappelling, rainforest trekking, white water rafting and riding an ATV though jungle rivers. Yes I survived!
For me, travel is the door to learning more about yourself but you can only go through it if you're open to new experiences and stepping out of the cosy comfort zone.
Not many people can say they've had the pleasure of meeting a sloth in the wild, but thankfully I can. So I knew we just had to celebrate International Sloth Day! (Jyoti even has a mouse mat proclaiming 'my patronus is a sloth'!)
Costa Rican life is very serene, they constantly pursue efforts which enrich the lives of every living being there. They live by a saying called "Pura Vida" which means pure life, to live a full life, simply put "It is a perspective to life that evokes a spirit that is carefree, laid back and optimistic."
Just like the sloth, the people there take time to slow down and appreciate their surroundings. Costa Rica doesn't even have an army… so you can imagine how peaceful of a people they are!"
One two toed step…
We at thestudio promote a healthy work life balance and encourage the team to take on new experiences. We're strong believers that a change of scene can do you the world of good. So today, celebrate International Sloth Day and take a breather!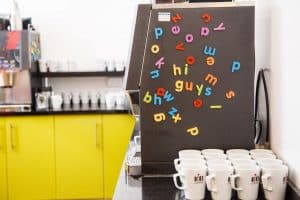 We just can't seem to settle down, can you guess why? It's International Coffee Day!
If we've had the pleasure of welcoming you through our doors, you might have noticed we love a good coffee. We're proud to offer you and your guests' fresh bean to cup coffee on every mug you pour… delicious!
Test yourself and see if you're a coffee fiend by thestudio's standards!
1.    Have you ever experienced coffee envy?
2.    Does the thought of tasting luxurious imported beans excite you?
3.    Are you on cup #3 by 9am?
4.    Does the scent of coffee outweigh the aroma of freshly cut grass or bacon?
5.    Would you always choose a coffee over tea?
6.    Are your friends and work colleagues impressed by how many jazzy named coffees you've tasted?
7.    Do you have a dedicated mugs or your all-important morning pick me up?
8.    Have you invested in a trusty coffee machine and placed it lovingly by your bedside?
1 – 4 yes's – tea drinker perhaps?
5 – 6 yes's – Coffee has a special place in your heart!
7 – 9 yes's – Must be still buzzing for your last coffee…
10 yes's – You're a true coffee fiend!
Give Me Coffee and T.V…
This wonderful world is full of hot drink connoisseurs. With each of us having our own palates and taste preferences we just can't help ourselves but give tea drinkers a good ol' shout out…
It may be International Coffee Day we can't help but use this opportunity to welcome Tetley tea in our venues!
So whether you prefer a rich coffee, sweet tea or a flavoursome hot chocolate… Happy International Coffee Day from thestudio.