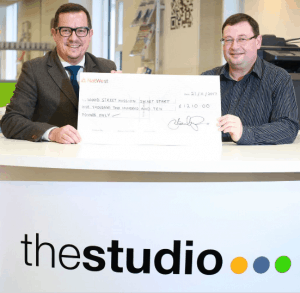 Guess what we got up to last Thursday?
If you answered with handing out one of those novelty sized cheques, then call yourself Mystic Meg as you're 100% right!
Charity Cheque…
thestudio loves to work with and support the local communities in the cities we call home, it gives us that Friday feeling every day of the week.
Have you heard of Wood Street Mission? They're an amazing children's charity which helps and supports local families in Manchester & Salford. At their core, they believe all children should live a poverty free life, encouraging them to value education and offering practical guidance so families can raise themselves out of poverty.
If you "teach a man to fish and you feed him for a lifetime."
The fisherman needs the basics before he can start to provide for himself… And that's what Wood Street Mission supply, the necessities!
If you've booked thestudio's funky, retro space The Classroom, you've directly helped to support local Mancunians! For every confirmed event in Classroom, thestudio makes a £10.00 contribution to Wood Street Mission!
Our Commercial Director, Julian Kettleborough, was happy to present Wood Street Mission with £1,210.
We look forward in continuing our work with Wood Street Mission and a huge thank you to our clients, you help make this possible!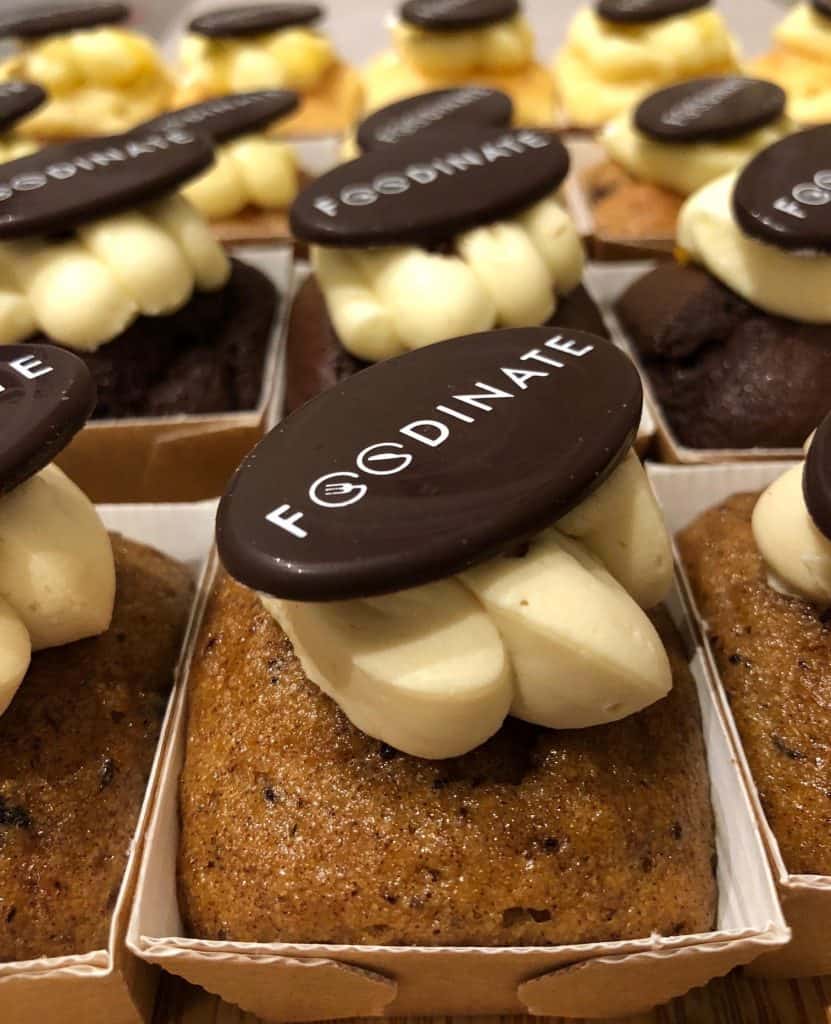 Did you know eating cake could save the world? Well… not exactly but we're working on it!
We bond…
thestudio are always looking for ways to connect with the communities we're based in. We joined hands with letsfeedbrum, Wood Street Mission, and without further ado, we've partnered up with Foodinate… A not for profit organisation which puts its fists up against food poverty within the UK!
Here's why we couldn't resist…
Emma Jennings, Managing Director of Customer First Venue Services Ltd comments:
"When we were approached about the Foodinate scheme, we were really taken by the idea and knew it was something that we wanted to be involved with. With venues operating in four different cities, the simplicity of the concept really appealed to us and Caroline [Foodinates' Founder] worked closely with us from start to finish to ensure the deal worked for us and our delegate audience. We are delighted to be the first events and catering company to be signed up to Foodinate and hopefully we can help spread the word far and beyond".
Piece of cake…
Foodinate Fancy Cakes are a fantastic way to support our local communities. Grab a slice of feel good by adding "Foodinate Fancy Cakes" to your event with us. Whilst enjoying a selection of delicious gluten free – Carrot and orange – Double Chocolate – Sticky Toffee – Lemon Meringue mini cakes, Foodinate will provide a hot nourishing meal to a local person in need. Definitely a win-win!
Loud & proud…
Don't be shy to post cakies (selfies with your cake)
@Foodinate
@studiovenues 
and tell us your favourite flavour. Join us in supporting our cities, together we'll make a difference one bite at a time. Giving never tasted so good!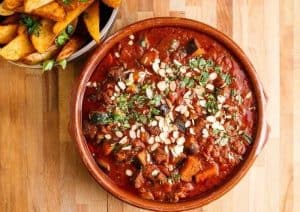 Welcome…
Everyone loves feeling a part of something, having a sense of belonging and being accounted for. Life's much more fun when everyone's included, it's why our meat-free buffet options are gluten free, dairy free and of course vegan friendly! #worldveganday
Unlimited vegan options…
On a health kick? Wave goodbye to boring celery sticks and hello to mouth-watering vegan dishes like chickpea and spinach masala with pilau rice or sweet & sour tofu served with stir fried veggies and rice noodles. Who ever said a plant based diet had to be boring? (Watch this space, we'll be releasing thestudio cookbook this winter which includes some great vegan dishes! Talking about vegan dishes… click here for a surprise recipe!)
Food for thought…
Did you know veganism is more than a plant based diet? It's a lifestyle! Their ethos of avoiding animal products for moral/health reasons influences all types of products they use from shower gel to floor cleaner, even clothing. Learn more about veganism click here…  and the benefits click here…
Insider view…
One of the studio team undertook a short stint of veganism, check out her experience:
"One of my good friends is vegan and she was a real hard-core meat eater. Admittedly I didn't eat much meat or dairy so taking on a vegan week challenge seemed achievable! It went swimmingly and I haven't eaten meat since, a few months now, I can't say I miss it that much, well, that is until the aroma of a bacon sandwich in the morning!"
Foodie to foodie…
Here at thestudio, we see being a foodie as a super power to make any food spectacular, enjoyable and memorable. Whether the dish is vegan or otherwise, we'll definitely put our heart and soul into it!