With venues throughout the UK it's no doubt thestudio deeply values and cherishes the communities it calls home. With this in mind, we're continually looking for ways to connect with our local neighbours and we've found the perfect way… partnering up with regional charities and not for profits!
Who we are working with…
Life's much better when we work together to create a kind and caring society. This being said, check out who we're currently working alongside to support enriching our communities!
Foodinate…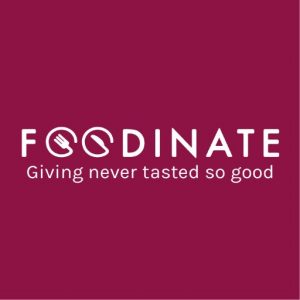 Foodinate Fancy Cakes are a fantastic way to support our local communities. Grab a slice of feel good by adding "Foodinate Fancy Cakes" to your event with us. Whilst enjoying a selection of delicious gluten free mini cakes, Foodinate will provide a hot nourishing meal to a local person in need. Definitely a win-win!
Here's a little bite of insight from Foodinate… "Our partnership with The Studio has generated over 2,800 meals since 2017 and we are so grateful to be able to help make a positive impact in four different cities with them! These exclusive Foodinate Fancy Cakes are a delicious way to help provide meals for those who need them most and we can't wait to continue tackling food poverty across the UK as part of The Studio family. So, let's #EatCakeAndDonate!"
Find out more about Foodinate by clicking here…
Let's Feed Brum…

A brilliant Birmingham based charity who focuses on providing "food, drink, essential supplies and friendship" to those living on our streets. We've teamed up with Let's Feed Brum to help get these Brummies back on their feet, every day our chefs and catering team package up any extras, providing nutritious meals to be served up and offered in the soup kitchen. Just by booking lunch with us, you may be contributing to the bigger picture!
Christmas 2018, our chefs put in some voluntary overtime to cook off a fantastic feast! In the spirit of Christmas, we contributed 300 freshly cooked Christmas dinners for those in need at St.Peters Cathedral. Ben Rafiqi from Lets Feed Brum commented on the occasion…
"Saturday did go brilliantly!! And your team were amazing!
They popped up with a pre-delivery on a trolley, then suggested we fetch it the rest up on three trolleys. A few extra hands went down, no vehicle needed. By the time they were back the Cathedral had been filling up. But no downing tools from the Studio team, no…. up with the sleeves and onward into the crowded chaos serving with a smile, clearly experienced with trench warfare and relishing every moment.
230 people were served, a happy mood prevailed, joyous music sprinkled itself upon the gatherers…….all went away clutching a gift.
Your guys were so good I hereby confer upon them Honorary Membership of Let's Feed Brum.
Thank you the Studio, we love you!"
Find out more about Let's Feed Brum by clicking here…
Crisis…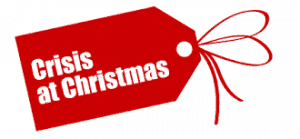 This inspiring organisation pools all its efforts to help ease homelessness throughout the UK. Through recognising the needs of those on the street, they empower these individuals to stir up real positive change in their lives. Annually, thestudio joins hands with Crisis @ Christmas, hosting their guests with delicious festive themed treats and a space to provide services like: health checks, mindfulness, and creative and hair/beauty sessions.
Our charity promise…
We appreciate that as a charity, funds are precious. With this in mind thestudio team will always look to offer the best rates possible on your chosen date and if not, we'll always offer an alternative or point you in the right direction. After all, our mission statement is: Customer First!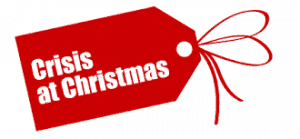 When is it Christmas?
Do you feel like there's a defining moment where a light bulb pings and you come to the realisation that Christmas is here again? Was it the arrival of the jolly German Markets, the iconic Coca Cola commercial announcing 'holidays are coming!' or maybe just the cold weather coupled with the long nights? In the run up to the magical 25th December, there's always that one thing which makes you take a deep breath in and release with the thought Christmas is here!
Thankfully for many of us, the grand entrance of festivities usually stirs up fond memories of warm evenings in spent cradling a cup of hot chocolate, a furry companion cosied up by the fire, being surrounded by family and friends topped off with feeling uncomfortably full. Unfortunately our reality is a dream for some.
Spare a thought…
Homelessness is a huge problem in the UK and regrettably for some, it can mean spending Christmas sleeping rough, without food or company.
Luckily Crisis do amazing work in leading those experiencing homelessness into a better life. By offering guidance to poverty sufferers, Crisis provides the support they need to empower themselves to create a positive change.
A helping hand…
Sometimes all you need is a little pick me up. That's why here @thestudio we're happy to welcome back and support Crisis with their Crisis @ Christmas campaign! Joining forces with volunteers, they'll be holding health checks, mindfulness, creative and hair/beauty sessions. We'll be hosting
For more information on their work this winter please click here.
Wishing everyone a lovely Christmas and new year from thestudio.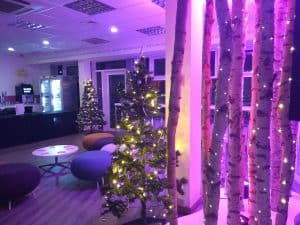 Frost bitten trees, twinkling lights, long nights… Winter brings great change to both our landscape and to our hearts. With Christmas firmly planting its snow boots on our door step, Santa at the ready to sneak down our chimneys, cities and homes all beautifully adorned in quaint decorations, it's no wonder we're all completely taken in by this magical season! And of course thestudio will be getting involved!
Cold feet…
Don't be put off numb fingers and Rudolf red nose sufferers, optimism isn't the only thing that can fight off the frost. Stave off those winter blues with some festive cheer and brighten up the day with the simplest of pleasures.
Boost your team with these seven super suggestions:
1. Decorate the office! Maybe importing a snow machine would be a little much…
2. Belt out some Christmas classics in the office. Sometimes you just can't help but sing along
3. Short trip to the Markets? Nothing quite like a comforting hot chocolate to soothe the cold
4. Yule be crowned a winner! Have a friendly competition of who can make the best Yule log
5. Whether it's dress down Tuesday or casual Fridays, why not dig out "those" jumpers
6. Secret Santa anyone?!
Whatever you choose to do to celebrate there's nothing quite like immersing the team in the season!
Get your knits out…
This Wednesday we'll be pulling out all the stops, so join us in wearing our Christmas jumpers! The team are looking forward to wearing their cosy Xmas pullovers whilst gift giving as secret Santa's.
Entertain yourself by checking out what thestudio teamed asked for when they were young…
Navisha – A bike and hells yeah! I was so happy when I received it 
Chris – I wanted a puppy! I got a guide dog puppy but we had to give it back at the end of the year 
Rachel – I went mad for a furby! Then I bet after a couple of months I got bored of it and it got packed away … oops!
Mandy – I really wanted roller-skates. All the craze in the 80's. Roller-skates and skateboards. My parents pretended to have bought my brother the skate board he wanted and nothing for me. At which I cried. They had actually bought me them and so I was so happy.
I was always one of those children who didn't want to get hurt so didn't really partake in physical activity!
I think I tried riding them just a handful of times before I gave up trying to learn.
What a waste!
Prabjot – I really wanted a furby… never got one though. Also wanted a Tamagotchi, and I got one of those… promptly got bored and then used the batteries for a book!
Whether you're on Santa's naughty or nice list, we wish you a very Merry Christmas and Happy New Year from thestudio.