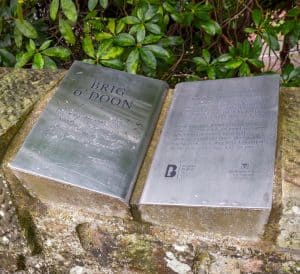 Let's dust off those bag pipes and grab our kilts, tonight's party has almost started, honouring the poetic prose of national bard: Rabbie Burns!
Viewed as a legendary writer, Rabbie Burns is best known for pioneering romanticism in Scottish literature. Is there ever a better way to reminisce and honour the life, works and birthday of national treasure than having a big ol' supper? We agree, there isn't! Find masses of Scottish folk coming together and tucking into traditional delectables like Haggis, Neeps and Tatties!
Curious about Scottish cuisine? Check out these fabulous recipes! Psst… thestudio cookbook is here!
Kilted at the alter…
Recently our wonderful Zoe (who you'd have been welcomed by in our Glasgow venue) tied the knot…
"The first time we went to an evening wedding, I knew I wanted to get married at Brig o' Doon House Hotel in Ayrshire (associated with Robert Burns). It's just a stunning venue with gorgeous grounds.
My Grandad was the 'founder' of the Burns Club in Stranraer. Burns has been a big part of our family and when we were younger, we would have days out visiting different places related to him. Having our wedding at Brig o Doon was special as I felt my Grandad was part of it (sadly he is no longer here)."
A toast to remember…
Traditionally or unconventionally, however you chose to spend it, thestudio wishes you all a fun filled Burns night.
Born from the ingenious imagination of A.A. Milne, today we'll be celebrating and drawing attention to an unforgettable children's classic: Winnie the Pooh.
What's Winnie the Pooh got to do with thestudio?
The question is why would a meetings and events space celebrate such a day? This cheeky chap shares some brilliant wisdoms. Exercising mindfulness whilst indulging in honey, this little bear is nothing short of a role model. With all of his little quirky insights, thestudio can't help but be drawn in by his whimsical view on life.
It's no wonder as we're inspirational quote fanatics! It's always a pleasure to welcome familiar and new faces through all our doors across the country. If we've been fortunate to host one of your events, you'll have definitely noticed our colourful design features and, of course, our room name inspired quotes!
Pooh Proofs…
A couple fun facts that you might not have known about this honey loving furry mammal:
1. Winnie is based on an actual bear who was bought by a soldier in the First World War who was later rehomed to London Zoo
2. Christopher Robin is based on A.A. Milne's son
3. Some of Pooh's friends are based off Christopher's actual teddy collection and can be found in New York Public Library
4. Hundred Acre Wood is a real place known as Ashdown Forest in East Sussex
"Rivers know this: there is no hurry. We shall get there some day."
― A.A. Milne, Winnie-the-Pooh
Quotes on us…
Help us celebrate today by tweeting us @studiovenues your favourite Winnie the Pooh quote, you never know, it might end up in one of our future venues!
With the flurries of new year's resolutions coming in faster than UK's snow spells, 2018 will no doubt be full of fantastic opportunities to make your wishes come true. With foresight taking centre stage, we'd like to celebrate your dreams!
I have a dream…
Martin Luther King's timeless speech undeniably influenced change, he dreamt of a future full of equality and freedom, a future which he pursued to create a reality. Today, take inspiration from people who chase their callings. Aspiring to go after your dreams, no matter how big or small, can be illusive. It's easy to only see the successful iceberg tip whilst overlooking what lies beneath, this perception is perfectly demonstrated by
Stephen McCraniein's famous quote:
"the master has failed more times than the beginner has even tried."
One thing's for sure, with a bit of elbow grease and perseverance, dreams can come true!
Burning with passion…
Ever notice how hours can fly by when you're immersed in something you really enjoy? It's because you're no longer a serial clock watcher! When we're bored, we become insanely aware of how slow time passes. Most of our lives are spent at work, time that would be best spent doing something we love. Unsurprisingly a lot of thestudio team had a background or interest in events before getting to join the family, as you could've guessed we love what we do!
Grab the bull by its horns…
We encourage risk takers, free thinkers and game changers. It's why thestudio venues are designed with all the quirks. We want to offer you a fresh environment, laden with the inspiration to get your 2018 goals ticked off. Whilst we look to the year ahead, we wish you the very best of luck in making your dream come true.