Diversity is any dimension that can be used to differentiate groups and people from one another. In a nutshell, it's about empowering people by respecting and appreciating what makes them different, in terms of age, gender, ethnicity, religion, disability, sexual orientation, education & national origin.
As a business we are part of the Diversity in Hospitality, Travel and Leisure Charter which includes a committed 10 point action plan, further details of which can be found here: www.studiovenues.co.uk/diversity
How do we put that into practise and what does that mean here at thestudio:
Our venues and our employment policies are positive, inclusive and welcoming to all irrespective of age, disability, gender, marriage, civil partnership, pregnancy, maternity, race, religion, belief, lack of belief, sex, sexual orientation
We have a mixed gender board of directors
Our senior team is predominantly female
Our team is funded to attend disability awareness courses
Our team is multi-faith and multi-cultured at last count between us we speak 14 languages; Afrikaans, Zulu, English, Italian, Portuguese, Spanish, French, Punjabi, Japanese, Lithuanian, Gujarati, German, Twi and Farsi
Our refreshment offer is designed to be fully inclusive offering everyday a vegan, dairy free
and gluten free menu option
We offer faith-based menu choices ie; Halal and Kosher
We offer spaces as prayer rooms
Blue badge parking is recommended on our website
Personal hearing loops are offered complimentary
Charity and community support:
Let's feed Brum: Our leftover food and fresh fruit is packaged daily and distributed to city centre food stations
Foodinate: We partner with this social enterprise project to provide cakes for your delegate refreshments, for every cake you purchase a hot nourishing meal is provided for a person in the community in need
Wood Street Mission: For every booking made in our classroom space in Manchester we make a £10 donation, this children's charities mission is to alleviate poverty for local children through practical support and help
Crisis: We give space in our Birmingham location to support Crisis at Christmas welcoming the homeless off the streets for a week-long event offering services, social and medical support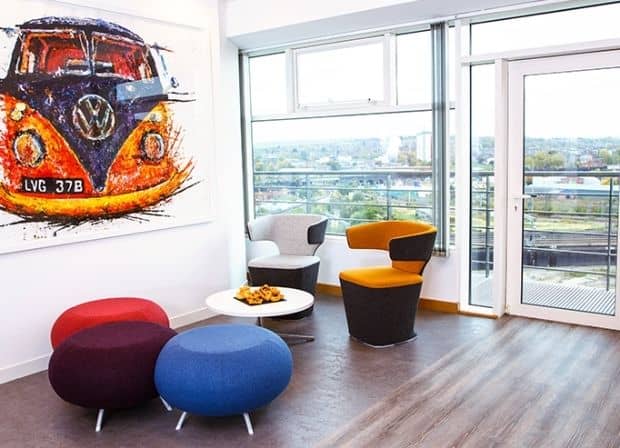 We've got two things on our agenda today… singing along to Pharrell Williams' Happy and reminiscing about some of the best moments in studio history as it's International Day of Happiness!
Do you celebrate?
They say it's important to celebrate the little victories and of course the big ones. But do you find time to congratulate yourself when you achieve your goals or do you straight away delve into a new set of goals to achieve? We understand wins can get overlooked and often forgotten… Feel inspired today and reminisce!
thestudio's top 10 happiest moments so far…
1. 2nd first… It's normal to sound off starting with one, thestudio with all its quirks started with two! Way back when, we were only able to offer events space on our 2nd floor. Creating some ruckus, bull dosing into the first floor, we were able to increase our meeting room spaces and offer you a brand-new floor to experience!
2. Cowley Manor will always have firm place in studio's history, aside from being the location of the first group away day, it's here thestudio ethos was born! Through team building activities, we defined the kind of company we were and how we would make decisions… Customer first it is 😀
3. Baby steps… wise Confucius once said – "It does not matter how slowly you go as long as you do not stop." Experience teaches us one thing, that we only ever truly fail when we give up trying. It was a momentous time when thestudio blew out its 3rd birthday candles… apparently this is the bench mark that an astounding 75% of new companies fail to make!
4. The Directors' trip jet setting off to the beautiful Eindhoven in the Netherlands. Keen advocates of "if you want a new idea change the view". And a follow up trip to Iceland sharing an elongated hot pool under a starlit sky, a perfect setting for the Northern lights and for sharing and planning big dreams.
5. Winning the pinnacle of awards "Best Independent UK venue in 2017" what an accolade, ticking every box in our company vision, where we strive for our customers to say "why would be go anywhere else!"
6. thestudio first ever profitable year independently in 2009, it felt like a massive feat!
7. There's no feeling that quite compared to opening our 2nd venue in Manchester's glorious Northern Quarter.
8. "Come with me, And you'll be, In a world of, Pure imagination" Did you get the Golden Ticket? That's right, one of our happiest memories was when we held the Charlie and the Chocolate Factory themed party. With a cluster of family, friends and special guests, it was the first time Nigel (thestudio's co-founder) showed them what we did. To say the least, they were blown away and to top it off, it was a brilliant party night with new, past and current studio team members.
9. In 2016 the team ticked one off the bucket list… expanding into another country! Opening thestudioglasgow was an amazing achievement and added another member to our family. We're feeling more like a seasoned business with 4 venues now.
10. A happy team is a productive team! Undoubtedly some of our happiest times are when we're whisked away to a team weekend. Usually full of fun activities and packed full of friendly competition, they're a great chance to catch up with each other.
Remember, remember…
Remember all your achievements and good times today, after all, it's International Day of Happiness! Wishing you a lot more memorable days and achievements to come.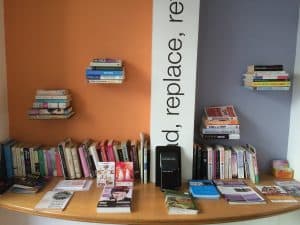 We're celebrating all things literature, language, illustrations and of course reading as it's #WorldBookDay.
Read, retreat, return…
In our demanding schedules, it sometimes feels overwhelming to carve out some time to finally nestle down into that book that's quietly gathering dust on the bedside table. Whether it's a quick flick though of the morning newspaper or quality time with your kindle, we've found some reasons to knuckle down and get those pages turning.
Reading over Netflix?
Life is to be enjoyed but it's also about balance. We all know we've unashamedly binged on a TV series but here's some reasons to consider reaching for a hardcopy than the remote:
1. Enter the realm of imagination and get lost in the fantastical, a little escapism helps to reduce stress.
2. Feeling like a goldfish? Reading helps to improve your memory! Problem solved.
3. The brain is an amazingly unique organ as it functions more like a muscle and like all muscles they need regular exercising and stimulation. Picking up a book is the perfect gym session for your brain.
4. 'Knowledge itself is power'… a great way to increase knowledge is, you've guessed it, by reading
5. Get social! Indulging in a book and swimming in your own imagination is no doubt a private experience. But if you're a social creature and like sharing your thoughts, start up a book club!
Giving 'em away now…
Visited thestudiobirmingham? We have a mini book collection at our entrance, so help yourself on the way in or way out! We promote book crossing, so pass that little read along, don't worry about returning it.
Much loved literature…
A couple of the teams' top picks when it comes to books:
Prabjot – HARRY POTTER! Because it brought magic to life.
Jyoti – IT. I used to read a lot of Stephen King when I was younger, no wonder I'm a scaredy pants!