Let's celebrate!
Providing bright, creative events spaces by day and a fabulous party venue by night, there's a whole host of after-hours fun to be had at thestudio. This bespoke space has a lot to offer when it comes to throwing a legendary party. From the seasonal summer BBQ and traditional Christmas carveries; proms, birthday parties we also host… Weddings!
Letting lose and enjoying your special day is our number one priority. When it comes to planning we'll take the pressure off you and be with you every step of the way. On the day our attentive team will be on hand ensuring all those little details down to a T.
What we offer… Complete flexibility:
Enter into the swing of things with welcome drinks in our 'oh wow' atrium bar with heated roof garden
Followed by a delicious 3 course wedding breakfast from just £30 per person inc VAT
Dance the night away until 1am with evening reception space for up to 300 people
We have a huge variety of ways to feed your guests, all cooked by our onsite chefs with fresh produce
Children half price on same menu or separate children's menu at £10 pp inc VAT
Venue Prices:
Whole day hire from £1000 inc VAT
Evening reception from £500 inc VAT – £750 inc VAT
Buffet prices from £19 inc VAT pp
3 course wedding breakfast from just £30 pp inc VAT
Enquire by clicking here…
We're happy to host a symbolic service, please note we are not licensed for Civil Wedding ceremonies.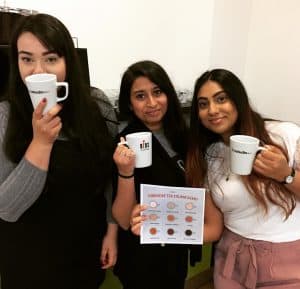 What's that sound?
The melody of excited whistling kettles and the magical chiming of swirling spoons fills the air… It's time to make some music… Let's stick on a brew and make a song & dance about Tea! That's right, it's National Tea Day.
Hi Chai…
Us Brits are well known for being avid tea drinkers, whether it's enjoying an afternoon filled with cakes and bite sized sandwiches or nuzzling into a fluffy blanket on a cold day, everything seems so much brighter accompanied by a good cuppa.
We've been drinking tea for centuries! Did you know the earliest record of sipping this humble leaf originated in 3rd century China? It's no wonder this lovely leaf has achieved, quite frankly, world domination. With almost an infinite variety of blends, infusions and combinations, this once mainly medicinal potion has expanded its branches and planted obsession into hearts all over the world.
Hot or cold, this delicious drink comes with a whole heap of impressive health benefits: antioxidants, bone protection, boosting your immune system… just to name a few!
Milk and two sugars…
Making tea is a serious business. It's the ultimate challenge in timing and ratio skills, a touch too much milk or leaving the bag in can really dictate if the mug you made with love gets left untouched… To make absolutely certain this never happens, thestudio team have a tea chart in their office highlighting acceptable shades of tea!
Can't tell your tea cups to your tea pots? Help is at hand! Get your skills up to scratch by clicking here… A sure fire way to win the hearts of everyone in the office. (p.s don't forget to bring some cake to sweeten the deal).
Mug to glug…
@thestudio nothing can beat a good cuppa. Whether you're a health enthusiast or just need a morning 'pick me up', from energetic green tea, a good ol' Tetley or a soothing Earl Grey… we'll have your tea needs covered!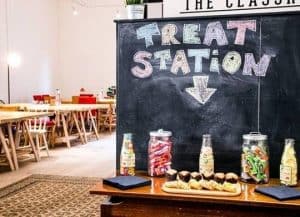 Imagine if you could help the local community whilst attending your teams' yearly round up or weekly meet up. Sound impossible? Not quite! Here at thestudio, we like to bring innovative ideas to the table and make them the centre piece of everything we do. We've achieved just that with thestudiomanchester's alternative, collaborative, self-contained events space: The Classroom.
Every day's a school day…
How does booking The Classroom help the local community? Let's fill you in… thestudiomanchester is partnered up with incredible children's charity: Wood Street Mission. With each get-together The Classroom hosts, a £10 donation goes towards Wood Street Mission's fantastic work. They believe all children should live a poverty free life, encourage children to value education and offering practical guidance so families can raise themselves out of poverty. Knowing that you've helped a budding young mind have confidence in their brilliance and supporting them in having the best start in life will make the unlimited retro snacks even sweeter.
Saved by the bell…
Children are our future engineers, doctors, writers, architects… we believe they all deserve the opportunity to shine bright. With the £10 going directly to Wood Street Mission's SmartStart initiative, we'll be able to support a child in need's first steps into education by supplying them with essential school clothes and equipment!
From thestudio team, we thank everyone who has helped us improve the lives of many Greater Manchester families through using The Classroom. We look forward to continuing our partnership with Wood Street Mission and of course working with you!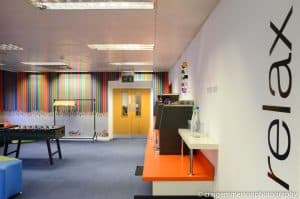 Keep calm and carry on…
For us Brits, we're renowned worldwide for having a "stiff upper lip" approach to life. Though, this might not always be the case… It's natural to feel overwhelmed and experience stress, trust us, we work in the events industry! On a brighter note, stress isn't malicious, it's our bodily and mental reaction to a given situation and for prehistoric man, it would've saved their cotton socks. Without stress induced flight or fight mode… we may not be here…
Let your hair down…
Life is such a rush, especially with our constant use of computers, laptops, tablets and smart phones. With everything being so stimulating, it can be quite hard to switch off and unwind. Thankfully there is a cure! So, step away from your smart phone and give those eyes a well-deserved rest. Changing your view and giving yourself some much-needed head space really helps. Think back to what you really love to do and indulge in it!
We can help…
Feeling the pressure? Give our punch bag a few swings! Feeling frustrated? Take it out on our foosball table! We've got a few things dotted around our venues to help offer you a new perspective that are a bit of fun! It is said you can discover more about a person in an hour of play than in a year of conversation… don't pass up on our building on our Lego wall. Psst, if you love colouring in, turn over our studio headed paper for a nice surprise!
Did you know Grace Marshall runs Think Productive' Stress Less Achieve More workshops at thestudiobirmingham? If the source of your stress is an overwhelm of too much to do in too little time and a constant feeling of information overload and distraction, Grace will show you how to reduce stress by eliminating those nagging feelings of doubt, guilt and overload panic, and replace them with a focused, playful, purposeful and productive momentum.
Book onto the next one at thestudiobirmingham here: stresslessoct2018.eventbrite.co.uk
Balance…
If we've had the pleasure of hosting your meeting or special event, you'll have noticed aside for our vibrant décor, we love the colour grey. So much so we incorporated it into our logo. But why grey you ask? Other than reminding you of the typical British sky's colour, it promotes balance and complete harmony, the comfortable medium between light and dark. We're firm believers in work hard, play harder. A work life balance is essential and thestudio team are encouraged to switch off after their days commitment. Once the team even had a masseuse visit and take a 15-minute massage within their work day!
Proof is in the pudding…
Check out the NHS online, they have some great advice on managing those dreaded stress levels. Making small changes can offer a whole new world!