On the back of the exciting news that we have teamed up with AV specialists Bryght to launch a live streaming studio at the studio we've been asked lots of questions about how it looks and how it works so we caught up with Bryght's Director of Business Development Nick Ricketts to give us some insight into this exciting new service and so you can take a look for yourself!
Watch our Live Q&A Session with Nick from Bryght below and see why it could be the ideal solution for your virtual and hybrid event needs! If you're in a rush and don't have time to watch the whole video don't worry, we have summed up the Q&A questions below for you to read instead.
Let's start with the basics. For a total beginner what do you mean by a virtual or hybrid event?
Simply put a virtual event is an online event that involves people interacting in a virtual environment on the web, rather than meeting in a physical location. Virtual events are typically multi-session online events that often feature webinars and webcasts.
A hybrid event is an event held with part of the audience in the physical location and the rest of the attendees joining virtually from wherever they are in the world.
 If there is one thing we have learnt about hybrid and virtual events it is that the options out there are vast both in capability and cost. In a nutshell could you sum up for us what the Bryght Studio @thestudio… can offer?
Our studio offers you the ability to get your message across to your audience simply, easily and most importantly safely.
With live events currently on hold its vital for business to continue as close to usual as possible and our studio gives you the option to do that. So if you are looking to do a product launch, internal staff conference or simply bringing your team together for a virtual team building day we can execute this for you.
Our studio caters for all budgets and briefs and benefits from the support of our friendly and skilled technicians.
 Do clients need to have any technical knowledge of their own or can they rely totally on the Bryght team to provide everything they need?
Our clients don't need any technical knowledge at all. Our savvy team of technicians will take care of all requirements and will talk you through the whole process ensuring are you are fully up to speed with what is happening.
 What about extra support, can you offer it to clients if they need it?
We sure can! We can test content, install content and build the whole platform for your event. Being virtual specialists there will be plenty of remote meetings in advance to talk you through the process too.
 We know that the Bryght Studio is based at the Birmingham venue. If, as a client, I love the idea of the studio but need it in Manchester, Leeds or Glasgow could you magically make it appear there for me?
We absolutely can! Our studio is mobile and adaptable so we can have our studio at any location within the UK.
 How many people could I have watch a live stream virtually?
This is literally an endless answer! We have done livestreams from 50 people all out to 2000 people but the reality is you can have as many people as you like attend virtually.
 I'd love to be able to run virtual breakout sessions, can you help with that too?
Absolutely! We create the breakout rooms for you. We have even created rooms with networking entertainment such as comedians and team building like virtual cocktail makers.
 If I'm running a live event at The Studio but I want to stream it to a virtual audience would this be a suitable solution for me?
Sure thing! We have the expertise and equipment to stream the event all across the world to your target audience.
 Are you able to move the studio to my meeting room?
Yes of course. Our studio is fully mobile we can be set up in another meeting room within a couple of hours.
 Thanks for your time Nick!
The Bryght live streaming studio is available at The Studio Birmingham now. You can find further details on our dedicated hybrid and virtual event page here or feel free to give us a call on 0800 028 6694, we would be happy to talk through your requirements with you.
Zoom fatigue. A phrase we are sure everyone is familiar with now!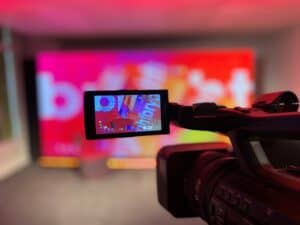 Let's face it, for many of us the novelty of another virtual meeting or conference on Zoom (or similar!!) has long worn thin. We're all itching to get back together again and engage in a much more meaningful way. Now lockdown restrictions are easing and with a clear roadmap for the return of events we could be forgiven for getting very excited about finally meeting each other once again.
Despite this though some companies are still planning on enforcing company travel bans and continuing with restrictions on face to face meetings well into the latter stages in the year. Some delegates may also still feel unsure about travelling even after restrictions are lifted.
So does this mean you simply have to settle sleep inducing Zoom conferences for the foreseeable? Well the simple answer to that is absolutely not.
Innovative virtual event products were in the market place long before the pandemic abruptly halted the events industry in March 2020 but naturally, as demand has increased, the offer has come on leaps and bounds – so much so that you can now host a fully immersive event online simply and easily.
In partnership with Bryght we are proud to be able to offer our own and have been working hard to deliver a state of the art live streaming studio, recently launching this dedicated space at our venue in Birmingham.
If you are planning on staying totally virtual this year our out of the box solution could be the perfect option for you. It is totally brandable and offers the perfect 'main stage' for your key note speakers, panel discussions and Q&A sessions.
What's more it comes fully supported by the experienced Bryght team so you can rest assured you are in safe hands.
So what does it actually come with? Well quite a lot actually!
Central to the studio is the large 4m x 2m LED video wall, which can be used to easily display your conference or company branding. It can also be used to dial in virtual speakers, deliver a virtual panel discussion or impressively deliver an 1-1 interview with a virtual guest.
The 4K theme continues with our studio too, using 2x Sony 4K cameras – one used for a close up of the speaker and the second for a wide angle of the set – great for in person panel discussions, interviews and Q&A's.
Behind the camera you'll find 2x 55" comfort monitors which can be used to view the LED screen content, presentations, virtual speakers or as an autocue. Then there is of course the all-important lighting and the support of a dedicated technician. If required the use of a state of the art production gallery together with support of a director can be added too.
Of course we don't want to limit you to a simple one track conference and the experience for your delegates doesn't need stop there. So we have fully integrated the studio with industry leading software Streamyard and Hopin, giving you the flexibility to offer fully brandable breakout sessions and exhibition space to your virtual audience too.
If you need a single base location to run your plenary, breakout session and exhibition from you can of course use our space for the whole lot. If you needed to be fully remote that's no problem either. Our live streaming studio is fully mobile and can be operated from any location in the UK with a solid internet connection. Your breakout sessions and exhibition can then be run from anywhere in the world.
One of the key things we have learnt about virtual events over the past year is that costs can easily spiral out of control but with our dedicated space we are able to offer and affordable option with the ability to bolt on the bells and whistles only if your budget and enthusiasm allows.
Our virtual event options are available across all our venues in Birmingham, Manchester, Leeds and Glasgow. To discuss your event call us today on 0800 028 6694 or use our contact us form here.
We would love to tell you more!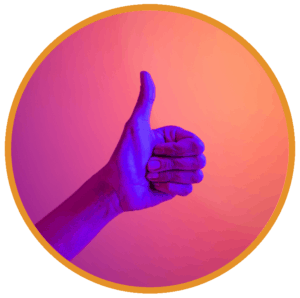 We're all itching to get back to doing things face-to-face aren't we?
It seems like every day that goes by our desperation to get back to 'normal' grows stronger by the day but with so many 'if and but's' still flying around we know making that commitment can be a tough decision!
As we emerge from this lockdown it is so important to use that you feel confident in making your decision to push ahead with your booking and give you the flexibility to change your mind should you feel the need to.
That's why we've introduced our Booking Guarantee.
With our Booking Guarantee we promise that for all bookings taking place before the end of August we will allow you to make changes or, should it come to it, cancel your booking without any questions and importantly without any charges.
It's one of the ways we are helping out clients take the bold step back to face-to-face live events, meetings and training. To find out the other ways we can help you visit our dedicated BoldlyGo page here.
On Global Meetings Industry Day we thought it would be a good chance to reflect on the past few weeks. This week in particular has been one of the busiest for thestudio since the Government 'Roadmap to Reopening' was announced back in February.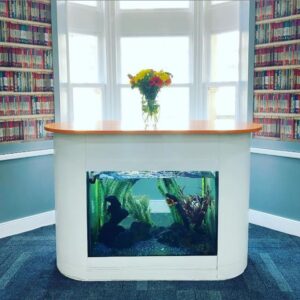 We had already seen the number of booking enquiries we have received jump and in recent weeks and in turn seen this turn into firm commitments from our customers.
What's more, conversations have turned from cancelling, postponing and rearranging to new dates, new events and a new air of confidence that this time we can truly start to get back to normal.
All really encouraging stuff, isn't it?
This week though has been something else entirely.
This week we have seen all of that continue. We have also seen some of our spaces refreshed, revitalised and ready to go. We have seen our live streaming studio, ideal for hybrid and virtual events, really take off and in use again (and what a tremendous offer it is too – find out more here) but crucially we have seen more and more clients in our buildings, conducting their meetings and training in a mature, safe and secure manner. Nobody has been on edge, no one has misbehaved, everyone has followed the rules. The result? Happy guests and an environment that works without putting anyone at risk.
As we move through the stages out of lockdown we're looking forward to being able to welcome more and more guests through our doors for all kinds of events. We're ready to welcome you with the promise that Covid-19 or no Covid-19, safe, seamless and successful events at thestudio are here to stay, just like they have always been.
Happy Global Meetings Industry Day!
You may have heard about it already (we've been quite excited about this so hard to keep quiet!) but we are absolutely delighted to confirm we are now working with AV specialists Bryght to deliver a dedicated live streaming studio at thestudio Birmingham.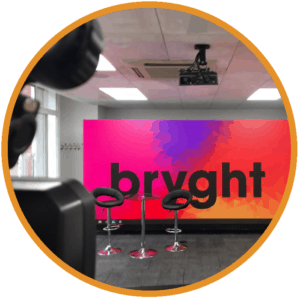 The "Bryght Studio at thestudio" is now being offered to all of our clients as a seamless city centre production solution. 
This is a fantastic opportunity to partner with a tech specialist who share our values to ensure we meet the needs of those guests who are looking for a safe and seamless event solution in these extraordinary times. There is still an opportunity to expand the offer, our relationship with Bryght is set to grow and we are looking forward to offering the Bryght Studio at thestudio across all our locations over the forthcoming months.
We caught up briefly with Bryght director Nick Ricketts who told us "It's been our ambition to offer a city centre production facility for some time and during the last few months we've seen a significant increase in demand for this offer. We wanted to partner with an equally dynamic organisation and our relationship with thestudio enables us to provide the latest in high technology equipment with the support of an experienced event team in one of the city's most established and creative event venues" 
We have been working hard to build a flexible package suited to the needs of all clients including virtual and hybrid options. We understand that for some clients this will be their first experience in hosting virtual or hybrid events and we want everyone to feel confident that they have our full support throughout every step of the process. The Bryght Studio at thestudio compliments our existing services and we're now proud to be able to offer a full hybrid and virtual event offer, no matter what your budget.
We will catch up with Nick next week to dive a little deeper into what the Bryght Studio at thestudio can offer you for your next hybrid or virtual event. To find out more click here.