It's been well over a year now since we've been able to all sit together 'normally' in one room so you couldn't blame anyone for forgetting what a totally live event feels like. With all the benefits they can bring us and with live events finally confirmed to restart on the 17th May now is the time we start to really think hard about returning to face to face booking in their entirety.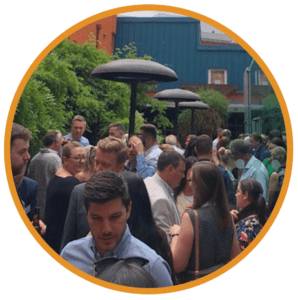 Live events and non–essential face to face meetings and training were initially stopped with good reason. So why should we consider a return to running these kinds of events now?  
The answers are clear and definitive. Face to face meetings, training and events are simply more effective. You are more effective at learning when doing it face to face, you are more effective at listening when you are doing it face to face, you are more effective at networking face-to-face and you are more effective at doing business… you get the idea. 
Then there is the Feel-good factor being around other like-minded people gives you. It gives you drive and motivation. 
If you want to achieve the most from any of these things you simply cannot replace a live event. 
So why are we now able to start thinking about returning to live events? With the pandemic now being brought under control thanks to a successful vaccine roll out and with venues well versed in delivering events in a Covid secure manner we can now be far more confident that live events are feasible again. 
At thestudio… we have always taken our responsibility to keep people safe seriously. In response to the pandemic we have been delivering Safe and Seamless meetings, training and events since we reopened back in August of last year. That has included enhanced cleaning regimes, the introduction of one-way systems and track and trace at all venues along with the requirement to wear face coverings in all public spaces. If you're interested you can read more here. Such has been the success that we've been accredited with the 'We're Good to Go' and 'AIM Secure' industry standards for delivering Covid secure events throughout. 
It is important that we continue to play our part and that means we don't plan on suddenly dropping all of the control measures we have worked hard to introduce over the last year or so. Instead, we will continue to embrace them for as long as we need to. We will continue to clean, clean and clean again. We will continue with our increased hygiene measures and whilst there is still a demand we will continue with our contact free catering service.  
We will continue with Safe and Seamless events, long after we really need to and if going over and above is what it takes to give people the confidence that face to face is safe then that is what we will do. 
We very much look forward to welcoming you back soon. 
In the events world 'hybrid' was an option scarcely considered pre-Covid. Now we are starting to plan for live events again it's become a serious and sensible option. We take a look at the options available and what the benefits of a hybrid event could be to you.
Simply put, hybrid events are when you have part of your audience physically at the event venue and part of your audience dialling in virtually. With a myriad of options out there what is the best bet for you? 
At thestudio we offer options to suit most budgets. Our most affordable option is our video conferencing package. Starting at £250+VAT for a day it is a simple solution, with a single camera it's very easy piece of equipment to use. You won't need any specific technical support (although it's hear if you need it) and all of the equipment will be ready waiting for you in the room when you arrive. Don't be fooled though, simple as it may be it also offers reliability and some impressive high quality 4K video to your virtual guests.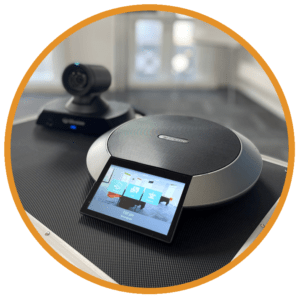 We would usually recommend this option to clients hosting a small more informal meetings of up to 10 people where anyone can contribute to the meeting at any time (i.e board meetings or team away days) or up to 50 people (up to 25 virtual attendees) where there will only ever be one person presenting at any one time.  
Our starter package comes with a handy 'picture in picture' feature where virtual attendees can see both the presenter and their presentation on screen at the same time. 
If you wanted to scale up the number of people attending your presentation virtually you can add on our Live Streaming package which, for an additional £250+VAT allows you to increase the number of people dialling in to up to 150 and with this option you can also add in a chat box function, which is perfect for Q&A with a larger virtual audience. 
For more formal conferences, for where you need to add a real professional touch to your "all staff" meeting or for special events like product launches and awards ceremonies our live streaming studio could be the option for you.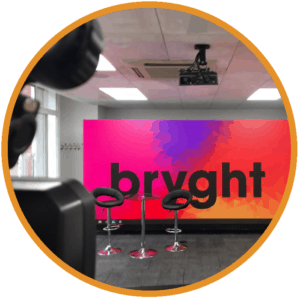 Based at our Birmingham venue it is set up and ready to go at a moment's notice, so if you need a professional live streaming studio tomorrow it really is no problem. What's more it's fully mobile and can be delivered in any of our rooms in any of our 4 locations so as a professional hybrid option it's perfect, you can have up to 260 people attend in person and a totally unlimited virtual audience. 
Central to the studio is the large 4m x 2m LED video wall, which can be used to easily display your conference or company branding. It can also be used to dial in virtual speakers, deliver a virtual panel discussion or impressively deliver an 1-1 interview with a virtual guest. 
The 4K theme continues with our studio too, using 2x Sony 4K cameras – one used for a close-up of the speaker and the second for a wide angle of the set – great for in person panel discussions, interviews and Q&A's. 
Behind the camera you'll find 2x 55" comfort monitors which can be used to view the LED screen content, presentations, virtual speakers or as an autocue. Then there is of course the all-important lighting and the support of a dedicated technician. If required the use of a state of the art production gallery together with support of a director can be added too. 
Whilst all of this may look impressive and enhance the experience of anyone attending the event in person it is important to ensure that anyone joining virtually has an equally impactful experience.  
With the use of the Hopin and Streamyard software you can offer a customisable experience to your own brand with the option for picture in picture, Q&A and chat options to each session as well as being able to offer virtual breakout and exhibition sessions so all delegates are able to get the most from your event. 
As you can see this package packs a lot of punch but doesn't have to injure your budget. Starting at £3,000+VAT for a full day we think it stacks up as one of the most cost-effective options available for larger events. 
As we've already said there are a myriad of options out there. Across our options we believe we can cover most bases however if you can't find what you are looking for then challenge us to build a bespoke package to suit you. See what we come up with, we are sure you will be impressed!  
Our hybrid event options are available across all of our venues in Birmingham, Manchester, Leeds and Glasgow. To discuss your event with us call us today on 0800 028 6694 or use our "contact us" form here.