Need to book a small meeting space fast and at short notice? We're delighted to launch online bookings at thestudio… giving you the freedom to book a selection of our meeting spaces online, 24/7 and up to the day before it's required.
Initially available at our Birmingham, Manchester and Leeds locations the online booking service will give you the option to book meeting rooms for up to 120 people and our all inclusive pricing means that all rooms come complete with unlimited refreshments for all of your guests along with either a projector or LED screen, flipchart and of course unlimited Wi-Fi for all guests!
Need lunch? No problem you can book that in too! Want to dial guests in? Just add on our video conferencing or live streaming options.
What's more, when you register for an online booking account you can review your upcoming bookings, add items at any time whilst and cancel your booking with us should you need to. You can also view your booking history.
We're excited to launch this new, easy to use and convenient tool in our Birmingham, Manchester and Leeds locations now and will be launching it in Glasgow very soon too!
To find out more and to start booking today click here.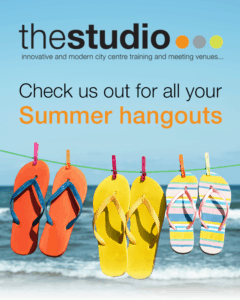 If you're thinking about what you can do to get together this summer make sure you think of thestudio…
We've got some great Safe and Seamless options available for you to get your team together, face to face for some valuable rebuilding time.
Sizzle in the Summer heat with our popular BBQ package, available at all of our locations with outdoor space – read about our BBQ package here.
Get together to rebuild, reengage and revitalise your team with our team building packages available across all of our locations.
Don't forget your meeting room! We've got plenty of space to get together before your BBQ, for your team building briefing or just a straight up face to face meeting. Look no further, you can find out about all of our meetings space here.
What's more, some of our most popular meeting rooms are now available to book online so meeting at thestudio… has never been easier! Just choose your room, add on your extras, pay and done. To find out about online meeting room bookings click here.
Got something else in mind? We love a challenge! Tell us what your looking for and, working with our partners, we will come back to you! Contact us here.
Whatever your plans for this summer talk to us today!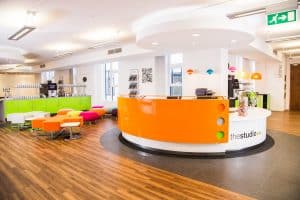 Ever since we had to close our doors last year we've been itching to get back, so you can imagine how excited we are to confirm that we will be reopen once more in Manchester, hosting Safe and Seamless events from Thursday 24th June.
Situated at the heart of the city, just a hop, skip and jump away from all major transport links, thestudiomanchester has much more than 10 vibrant spaces to offer. Whatever the legendary Manchester weather has to throw at you, you'll always find the warmest of welcomes at thestudio and in these strangest of times you can rest safe in the knowledge you will be looked after, thanks to our Safe and Seamless event policy.
Find out more about our Manchester venue here and to discuss your requirements give us a shout or book online today!