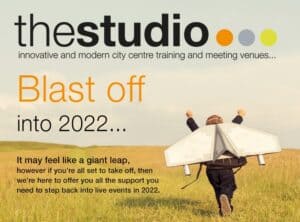 It's not too late to Blast Off into 2022 with thestudio. In fact there has never been a better time! This February we're really pleased to be able to share some fantastic offers applicable to all new bookings taking place in February 2022.
Book with space in mind, with an on request complimentary upgrade to a larger space should you want to socially distance your group.
More is less with our 1 in 10 go FREE offer on all Day Delegate Rate bookings. Just quote ONEINTEN when making your booking!
Just need a room? No problem. We'll give you 10% OFF your quoted room hire rate when you quote TAKE10
Book online 24/7 and we will automatically apply your 10% off room hire discount
And don't forget you can book with peace of mind with our flexible booking guarantee, giving you the option to move your booking without charge should you need to!
It's all part of our mission to give you the tools you need to BoldlyGO with thestudio in 2022. To find out more click here.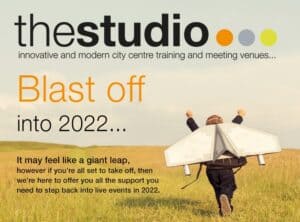 It may feel like a giant leap right now but whenever you are ready to take off in 2022 we're here to offer you all the support you need.
At thestudio we're committed to offering our clients the tools they need to return to face-to-face meetings and events in 2022 and are pleased to be able to offer a range of options to help. So whether its a last minute meeting room booking online, a full TV production style virtual conference, space to socially distance or just some reassurance that if your plans change you can change them with us.
Safe and Seamless Events
We're well versed in delivering safe and seamless events, working towards Covid-19 safe event guidelines at all times.
Flexible Booking Guarantee
Applicable to all bookings taking place before the 31st March 2022. Giving you the reassurance to make plans and the ability to change them should you need to.
Bigger Rooms on the House
For any booking in January we will offer you a larger room to socially distance if requested* and we promise it won't increase the price you pay.
Online Booking
Need a meeting room in a hurry? Book and manage your meetings online 24/7 and now up to 30 days in advance with the peace of mind your booking is also covered by our flexible booking guarantee.
Hybrid and Virtual Events Are Our Thing!
With a range of cost effective hybrid and totally virtual event options from simple plug and play to full TV production.
Team Rebuilding
Make the right impact at your meeting, conference or event. We offer team building, icebreaker and energiser activities expertly managed by our enthusiastic and professional partners.
Just need a desk?
We've got them to hire by the hour, including power and unlimited refreshments on tap.
To find out more click here.
*subject to availability