Boldly Go Virtual with thestudio…
Posted on 21 April 2021
Zoom fatigue. A phrase we are sure everyone is familiar with now!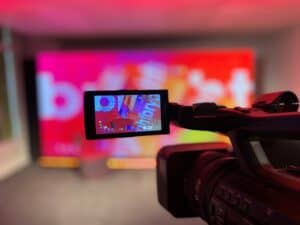 Let's face it, for many of us the novelty of another virtual meeting or conference on Zoom (or similar!!) has long worn thin. We're all itching to get back together again and engage in a much more meaningful way. Now lockdown restrictions are easing and with a clear roadmap for the return of events we could be forgiven for getting very excited about finally meeting each other once again.
Despite this though some companies are still planning on enforcing company travel bans and continuing with restrictions on face to face meetings well into the latter stages in the year. Some delegates may also still feel unsure about travelling even after restrictions are lifted.
So does this mean you simply have to settle sleep inducing Zoom conferences for the foreseeable? Well the simple answer to that is absolutely not.
Innovative virtual event products were in the market place long before the pandemic abruptly halted the events industry in March 2020 but naturally, as demand has increased, the offer has come on leaps and bounds – so much so that you can now host a fully immersive event online simply and easily.
In partnership with Bryght we are proud to be able to offer our own and have been working hard to deliver a state of the art live streaming studio, recently launching this dedicated space at our venue in Birmingham.
If you are planning on staying totally virtual this year our out of the box solution could be the perfect option for you. It is totally brandable and offers the perfect 'main stage' for your key note speakers, panel discussions and Q&A sessions.
What's more it comes fully supported by the experienced Bryght team so you can rest assured you are in safe hands.
So what does it actually come with? Well quite a lot actually!
Central to the studio is the large 4m x 2m LED video wall, which can be used to easily display your conference or company branding. It can also be used to dial in virtual speakers, deliver a virtual panel discussion or impressively deliver an 1-1 interview with a virtual guest.
The 4K theme continues with our studio too, using 2x Sony 4K cameras – one used for a close up of the speaker and the second for a wide angle of the set – great for in person panel discussions, interviews and Q&A's.
Behind the camera you'll find 2x 55" comfort monitors which can be used to view the LED screen content, presentations, virtual speakers or as an autocue. Then there is of course the all-important lighting and the support of a dedicated technician. If required the use of a state of the art production gallery together with support of a director can be added too.
Of course we don't want to limit you to a simple one track conference and the experience for your delegates doesn't need stop there. So we have fully integrated the studio with industry leading software Streamyard and Hopin, giving you the flexibility to offer fully brandable breakout sessions and exhibition space to your virtual audience too.
If you need a single base location to run your plenary, breakout session and exhibition from you can of course use our space for the whole lot. If you needed to be fully remote that's no problem either. Our live streaming studio is fully mobile and can be operated from any location in the UK with a solid internet connection. Your breakout sessions and exhibition can then be run from anywhere in the world.
One of the key things we have learnt about virtual events over the past year is that costs can easily spiral out of control but with our dedicated space we are able to offer and affordable option with the ability to bolt on the bells and whistles only if your budget and enthusiasm allows.
Our virtual event options are available across all our venues in Birmingham, Manchester, Leeds and Glasgow. To discuss your event call us today on 0800 028 6694 or use our contact us form here.
We would love to tell you more!