Safe, seamless

and

successful

event planning…
We realise that in uncertain times even the smallest of events can be daunting to organise or attend. We are here to support and guide, providing the solutions you need to plan a safe, seamless and successful event.
Watch our Safe, Seamless and Successful video below for an overview of what we are doing or read on for further information.
Covid-19 Industry Accreditations

What everyone is saying…
Since reopening our venues we've had some great feedback on the way things have gone. Read some snippets below:
"Our 2 trainers and 8 delegates recently used The Studio in Manchester for a training course, the room they provided us was big enough for our group to socially distance and our group felt safe and at ease in the building as there were plenty of hand sanitiser stations. Each delegate was provided a sealed snack pack on their table which was a nice touch. Looking forward to using The Studio for future bookings knowing they have high Covid safety measures in place."
Aimee Bennett
Laing O'Rourke
"It was fantastic, we felt very very safe and we're really impressed with the facilities and set up, it was much appreciated."
Bethany Bolton
Provident
"Just wanted to drop you a line to say thank-you for all your help setting up our meeting yesterday. The information received from The Studio prior to the meeting relating to your Covid risk assessment and the actions you have taken were thorough and gave me confidence that my colleagues would be kept safe during their visit. I have been in touch with the team this morning and they said everything was 'great and went without a hitch'."
Heidi Houghton
Morses Club
For Organisers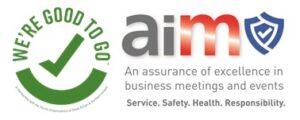 Are your venues open?
Our venues will be subject to individual opening restrictions over the coming weeks. We would recommend you call us on 0800 028 6694 for the latest information and availability.
What events are permitted to operate?
In England:
Current Government guidelines (updated 04/01/2021) permits only essential face-to-face training, training for key workers and essential business meetings for up to 30 people to take place during the lockdown in England from 05/01/2021 and only where these bookings cannot be delayed to a later date or delivered online. Social distancing should be maintained at all times.
In Scotland:
Current Government guidelines (updated 23/12/2020) permits only essential training and essential business meetings to take place. These should only take place face-to-face when they can not be delivered online and only absolutely necessary participants should attend in person. Social distancing should be maintained at all times.
My event is for more than the number of people you can accommodate, what can I do?
We can offer solutions should your event need to be for more people that can be physically accommodated in the venue, including live streaming across multiple rooms either within the same venue or across multiple venues and live streaming to guests that are unable to attend. You can find some information on some of the video conferencing and live streaming packages we have available here. If you would like further information or would like to discuss a bespoke package please give us a call on 0800 028 6694 or by completing the contact us form here. We would be happy to discuss our solutions with you.
What are you doing to ensure my guests safety?
We are accredited with the 'We're Good to Go' and AIM Secure Covid-19 industry standards across all of our venues and all bookings will be accommodated in line with the latest government guidelines.
We have put together a comprehensive Venue Re-Opening Plan which contains advice and information about what else will be different for events at thestudio.
Our room capacities have changed temporarily to accommodate the social distancing measures we are putting in place. Capacities will depend on the spacing guidelines at the time of your event. To make life slightly easier we have detailed capacities depending on different distances in one place here.
Do my guests need to register their visit?
To support the government with the control of Covid-19 it is imperative we record everyone's visit to our venues as part of the Test and Trace scheme. From the 24th September this will be via the new NHS Covid-19 app and we will ask everyone that enters our venues to register their visit using the app. Please ask all guests to ensure they have downloaded and set up the app in advance of their arrival. Once at the venue the process is easy and takes just a few seconds to complete. You can find more details of this process below.
I have more questions, who do I need to speak to?
We are on hand and ready to answer any questions you may have. So whether it be about and existing or future booking you can contact us by calling 0800 028 6694 or by completing the contact us form here.
See you soon!
For Guests
I'm going to be attending a meeting at one of your venues. What can I expect from my experience?
As a guest take a peek here at our  safety in our venues and clean and safe advice plans to see what we will ask from you and what you can expect from us.
Will I need to register my visit?
Yes, in order to support the government with the control of Covid-19 we will be asking all guests to register their visit as part of the Test and Trace scheme. From the 24th September this will be done via the NHS Covid-19 app and the process is both quick and easy, ensuring you can head on to your meeting without any delay. It is important you have downloaded the app before your visit. To find our more see below.
We look forward to seeing you at our venues soon!
Test and Trace
What is Test and Trace?
NHS Test and Trace is a key part of the country's ongoing Covid-19 response. If we can rapidly detect people who have recently come into close contact with a new Covid-19 case, we can take swift action to minimise transmission of the virus. This is important as lockdown measures are eased and will help us return to a more normal way of life and reduce the risk of needing local lockdowns in the future.
What are you doing in your venues?
We are asking all guests who visit our venues for any reason to register the visit via the new NHS Covid-19 app. Downloading the app is very easy and very secure, you will be set up in minutes and will be able to use the app to register your visit at thousands of venues around the country (no more filling in forms we hear you say!).
To download and get set up on the app click one of the logo's below depending on the device you will be using:
Once set up you simply need to:
Open the app upon your arrival at the venue
Select 'Venue check-in'
Point your camera at the QR code on any of the NHS Test and Trace posters located around the venue
That's it, as simple as that!
Your anonymous check in data will be securely held on the app for 14 days when it will be deleted.