The Year of Change
Posted on 01 December 2016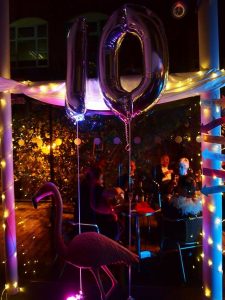 It's undeniable that change is brought about with each passing year. 2016 is no different. As we're almost at the dawn of 2017, we thought it was time to cast our sights back on the year we leave behind.
2016 has called for some major adjustments, the loss of David Bowie, our decision to leave the EU and Donald Trump being elected as US President are perhaps a few unexpected surprises. In the face of change, we must embrace it, evolve and aspire to stay consistent in everything we do. At thestudio we pledge that no matter what life throws at us, or where we set our foundations, our customer first attitude will always take centre stage in the service we provide.
Of course it's not all doom and gloom…
2 most notable achievements have gone down in studio history this year!
With the appearance of our latest addition to our ever growing family, thestudioglasgow has been our 4th venue venture. We've grown from our modest beginnings in 2006, serving up to 30,600 guests in 2007 in one venue to a whopping 86,500 across 3 venues in 2015! We're really excited to see the number of studio goers at the end of this year, especially with our 4th venue on the band wagon. Dreaming BIG isn't new to thestudio, another year, perhaps another venue? Who knows what the future has in store!
Fantasy or reality?
Were you welcomed by a 6ft giraffe mounted by gymnast throwing shapes? No, it wasn't a dream… There's only one place you could've been… thestudio's 10th Birthday party.
Elegant, unconventional and imaginative, on 28thOctober our Birmingham venue was bursting at the seams with eccentricity for its birthday blow out. What may have been (and possibly still is for some) a blurry memory, we opened our circus doors to friends and family, and what a night it was!
Amidst all the black and white decorations, lion tamers and glow in the dark jugglers, we commemorated the start of our 11th business year… In style… No small feat for a privately owned company!
Onwards and upwards…
Despite all changes, the good the bad and the ugly, we will always see change as an exciting challenge to develop ourselves further, another chance to grow and the opportunity for evolution, who could pass up on that?!
So as we're about wave this year good bye, congratulate yourselves for all that you've accomplished. The time has come to look forward with new ambitions, we welcome 2017.